[Note: This post contains affiliate links. Peggy may receive a commission for purchases made through these links.]
Lauren Goff's Matrix: a Novel
was recently recommended to me by a friend who knew I enjoyed reading—and writing—historical fiction. No, this book has nothing to do with The Matrix, the 1999 film starring Keanu Reeves, Laurence Fishburne, Carrie-Anne Moss.
Matrix: A Novel­—a New York Times Best Seller and one of Barack Obama's Favorite Books of 2021—takes place in an abbey in 12th century England. Groff takes the real-life historical figures Mary de France and Queen Eleanor of Aquitaine and creates a wholly fictional story around them. As I was reading, the name Eleanor of Aquitaine rang a genealogical bell in my mind. And sure enough, after checking my family tree on Ancestry.com, I discovered that she was my 27th great-grandmother.
About the same time I came across a Netflix series called The Last Kingdom, which mixed real historical figures with a lot of fictional ones. The reason I was attracted to this series is that it is set in the 9th century and is about the conflict between the Saxons and the Danes (Vikings), both from whom I descend. My grandfather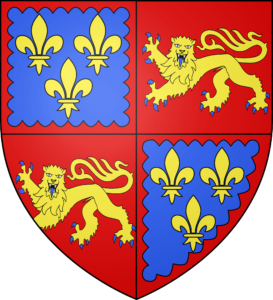 was born in Denmark. No, he wasn't a Viking, but I'm working on finding out if his forebears were.
On the Saxon side, the name Alfred the Great in the Netflix series sounded vaguely familiar. I checked my family tree on Ancestry.com, and sure enough Alfred the Great, King of Wessex (b.849 – d.899) is my 36th great-grandfather.
Wait! you say. How can I possibly know I am descended from these people who lived a millennium or more ago? How can I take my family tree back over thirty-six generations? The key is having an ancestor that genealogists call a "gateway ancestor." Gateway ancestors are individuals who have been documented by genealogists and historians as having descended from royalty or other notable individuals. Gateway ancestors were generally 17th century immigrants to the U.S. or to Canada.
Anne Couvent
My gateway ancestor was Anne Couvent who was born in Picardy, France in 1601. She married Philippe Amiot. They had two sons, Mathieu and Jean, before the family emigrated to New France (Canada) in 1636. Their third child, Charles, was born shortly after their arrival in the village of Quebec. Tragically, a month after that baby was born, Philippe died. Anne was left a widow, though she married twice more, having two children with her second husband.
I have been able to document my family line via my mother's side to Anne Couvent and Philippe Amiot using a variety of genealogical resources. Professional researchers (not on my behalf; I stumbled onto their work just as I have stumbled onto most of what I know about my ancestral roots.) and Wikipedia took over from there going
all the way back to my 30th great-grandfather, William the Conqueror (famous for his conquest of England in 1066) and a variety of royal figures in between. From William, the family line goes back to the Viking Rollo, my 35th great-grandfather who lived in the 9th and 10th centuries.
The Challenge: Documenting Your Gateway Ancestor
Documenting your lineage to a gateway ancestor is the challenge. Websites like Ancestry and Family Search make it a bit easier, but still, finding the documentation to actually prove you are on the right track is not easy. There can be a lot of false leads in some of the online family tree websites. At one point I had to eliminate an entire branch of my father's family tree that I thought went through France and into 15th century England because of one false lead. In fact, that branch ended up dead-ending with my 4th great-grandfather who was an orphan in Quebec in the 1700s. Through DNA, I may have found his father. I have a hunch about his mother; but I have not been able to prove it.
Documenting Anne Couvent, my gateway ancestor who leads me to Eleanor of Aquitaine, William the Conqueror, Alfred the Great, Rollo the Viking, and many other notables was surprisingly easy. Anne and her family immigrated to New France in 1636. The French-Canadians kept awesome birth, death, and marriage records, as well as many notary and land records. And the current generation of Canadian historians/genealogists have indexed those records. With a couple of clicks I can trace my French Canadian forebears to their dates of immigration and access pdf copies of the original birth, death, and marriage records.
If your gateway ancestor immigrated to the Colonies that became the U.S., your search may be more challenging. But if you are persistent and resourceful, you can do it.
How to Find Gateway Ancestors
There are several lists of gateway ancestors. Once you have begun to trace branches of your own family tree into the 1600s, if you have ancestors in the U.S. or Canada in who arrived during that era, you can check gateway lists to see if your ancestor is on one.
A good introduction to the concept of gateway ancestors can be found at the Hereditary Society Community website maintained by Nathanial Lane Taylor, who holds a PhD in Medieval History from Harvard. He has an alphabetized list of gateway ancestors, but does not show their individual ancestral lines to royalty. For that you will need to do some research on your own.
The Baronial Order of Magna Charta and the Military Order of the Crusades website maintains a list of people with "approved lines to Magna Carta Barons, Crusaders, and Templar Knights." If you have an ancestor on the list and can prove it through appropriate documentation, you can apply for membership in the group. WikiTree also has its own Magna Carta Project with a link to their recognized gateway ancestors.
The Order of the Crown Charlemagne maintains their own list of gateway ancestors that trace their roots back to King Charlemagne. This group also offers membership and an invitation to a black-tie dinner meeting once a year in Washington, D.C.
If you are interested in finding out if your ancestor was a founding settler of Jamestown, check with the Jamestown Society website.
Finding the Lineage Beyond Your Gateway Ancestor
Once I learned that Anne Couvent was a gateway ancestor, a Google search brought me to the website Habitant.org which includes a link to Anne's seven known royal lineages. Wikipedia helped to go even farther beyond.
If you have a gateway ancestor, tracing their lineage will take you on a trip back in time to X-times-your-great-grandparents, people you never knew you descended from and whose DNA resides in you. But searcher beware: while many of these notable ancestors were admirable people; many were. . . maybe not so much.
If you have a gateway ancestor or if family lore says you descend from someone notable, we'd love for you to let us know in the comments.