A new (to me) author friend, Joy Ribar, is living the RV life of the characters Mary Joy Johnson and I created for our mystery novels On the Road to Death's Door and On the Road to Where the Bells Toll. And yes, there are dead bodies involve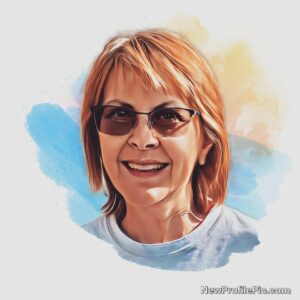 d. But no, Joy Ribar and her hubby John are neither murderers nor sleuths. However, you can be sure dead bodies will be found between the pages of Joy's own Deep Lakes mystery novels and her newest release, The Medusa Murders.
Confession time…when Mary Joy and I created our fictional sleuths, Emily and Stan Remington, for our On the Road mystery series, we had never ridden in an RV. We'd both been camping in parks that hosted RVs, we'd been to RV shows and toured rigs nicer and more expensive than our own homes, and of course we did a ton of online and book research (yes, there is an RVs and Campers for Dummies book). But it wasn't until after second book was published that we had an opportunity to spend time traveling in an actual RV.
Ever wonder what it would be like to travel the country in a motorhome while writing mystery novels? I had the chance to chat with someone who does just that. Joy Ribar, a cozy mystery writer, is not only living the dream, but this mother of three, grandmother of a slew of kidlings, and retired teacher published her first novel, Deep Dark Secrets, in 2019. She has since published four more titles with another on the way this fall.
Joy and I chatted via Zoom (Duh! She was on the road.) and we had a lovely discussion about her new travel life and her writing life.
Author Joy Ribar Becomes RV Full-timer
Joy spent her preretirement years as an English instructor teaching literature and mythology on both the high school and college levels. She has a master's degree in education from UW-Oshkosh. Before that she earned a bachelor's degree in journalism from the University of Wisconsin-Madison, which is likely why she's so good at researching and at devising ways to murder her fictional characters and then have her sleuth uncover the murderer.
In the summer of 2022, Joy and John, her husband of twelve years, sold the house she had owned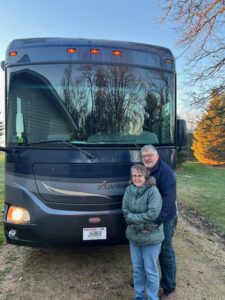 for 37 years, bought a 35-foot motor home with three slide-outs, and hit the road.  These full-timers weren't first-timers, however. They had rented RVs for vacations and had a pretty good idea what they were getting into.
"What did it feel like to sell your house and change your lifestyle so dramatically?" I asked.
"It was a bit traumatic," Joy said. "But getting rid of all that clutter gave me room for creativity, it unburdened me. I miss my home, but we get to have all these adventures, meet people, visit new places, try new foods. It's a great school. I'm a student forever."
Their first adventure took them to Florida, then back up the East Coast to Delaware, Maryland, and Pennsylvania, eventually making their way back to Wisconsin where two of Joy's daughters and her mother still live.
Joy and John are members of Harvest Hosts and Bookdockers Welcome which specialize in connecting RVers with free campsites at farms, orchards, wineries, and breweries. "I love it," she says, "because most of the places we stay are beautiful and quiet.  Most of them offer tours and samples of their products, of course, hoping we will purchase something from them.  The hosts are generous, gracious, and welcoming." The couple has stayed at a goat farm, a brew pub, and several wineries from Illinois all the way to Florida, as well as sites in the Northeast and Canada as recently as this past summer.
Joy says the RV life enhances her research and her storytelling. "RV adventures are providing some great character types and conversations to tweak for my writing!  It's wonderful to explore new areas and think differently about food, culture, and setting." The travel also affords Joy the opportunity to stop in at bookstores and libraries along the way to promote her books and do speaking events and book signings.
The Deep Lakes Mystery Series
"What is the biggest challenge for you living in an RV?" I asked.

"Sharing office space," Joy replied. "John is still working; he's a consultant. And I write several hours a day, five days a week. But we've managed to work it out."
Joy had already published four books in her Deep Lakes mystery series before she hit the road: Deep Dark Secrets (2019), Deep Bitter Roots (2020), Deep Green Envy (2021),  and Deep Dire Harvest (2022).
Set in fictional Deep Lakes, Wisconsin, Deep Dark Secrets introduces us to Francine "Frankie" Champagne, a wannabe journalist and owner of the aptly named Bubble and Bake, a bakery by day that transforms into a wine lounge at night. One reviewer said they felt like they had found a new set of friends in this series. Another said it was a great summer read, even though it's set in a Wisconsin winter. If you enjoy a mystery with a touch of humor and bonus recipes at the end, Joy's series is definitely one to check out. She has also written and published a holiday companion novel to the series, Deep Flakes Christmas: A Nisse Visit.
Joy's pride in her Scandinavian roots influences her stories and her characters. She creates what she calls "hygge-style mysteries." Hygge is a Danish word/concept meaning a coziness derived from surrounding oneself with friends, laughter, and food, and providing a sense of warmth and security. In other words, Joy's books are cozy mysteries in the truest sense.
Joy's Mystery Novels Feature Food and Recipes
Joy's novels celebrate her favorite Scandinavian treats. All of her books include recipes that she's either made on her own or received by permission from friends and family. "They've all been tested in my kitchen." That, of course, was in the past, when she still lived in a house. But creating recipes while RVing has not daunted her. "Baking on the road presents its own challenges. It's hard to bake a large batch of cookies or a sheet cake in an RV, so I'm enjoying the learning process of creating new recipes just for RV bakers."
New Mystery Series from Joy Ribar
"What are you working on now?" I asked.
"I have begun a new series. The first book is the Medussa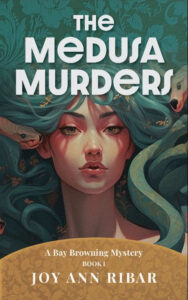 Murders, featuring an English professor at a college in the fictional town of Prairie Ridge, Wisconsin. This is an edgier series. In the first book, my character is the target of a serial killer." The Medusa Murders will make its debut in November 2023.
This new series, Joy says, gives her the chance to explore themes of literature and mythology while having her main character, college English professor Bay Browning, solve mysteries. While the first book, The Medusa Murders, focuses on mythology, Joy has several more books in the series already outlined, and says they will feature other aspects of literature.
For fans of her original Deep Lakes Mystery series, they can expect a new book out in 2024, Deep Wedded Blues.
Visit Joy Ribar's website and sign up for her newsletters to receive up-to-date info on her books.
You can also follow Joy's travels on Instagram and Facebook. Hmm…do I see a theme running through her posts? Wineries, lots of wineries…in between author visits to bookstores and libraries!
Joy is a founding member of Blackbird Writers, a mystery writers blogging group.
Joys books are available at independent bookstores throughout Wisconsin, or you can order them from Amazon or Bookshop.org.
All images in this post provided by permission of Joy Ribar.
Note: As an Amazon Associate I earn commissions from linked qualifying purchases that help with the cost of this website & blog.